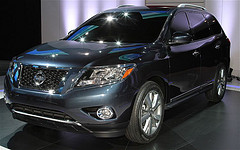 I was recently asked, "What is innovation?" in reference to the automotive industry. I said something like, "It is standing out from the crowd. In automotive, it is typically bringing features and functionality that has not previously been seen in that class of vehicle."
But is that really innovation?
At the North American International Auto Show, held annually in January in Detroit, the Motor City, there are some days dedicated to the media. There are some days that are open to the general public. And there are some days which are dedicated to the industry. I find these industry days most intriguing.
If you've never seen this show, just imagine a convention center filled with cars, floor to ceiling displays, and hot models who actually know a something about the vehicles.
During industry days, hundreds of engineers from the automotive manufacturers and their suppliers swamp the auto show with all kinds of engineering-related tools –computers, cameras, tablets, tape measures and calipers. The show is totally open to industry personnel, so they can go sit in each other's vehicles, examine components, and take measurements. It's not uncommon to see grown men crawling on the floor under the cars. It's unofficially known as "Spy vs. Spy" days at the auto show. And it's perfectly legit.
The gist is that they take these ideas back to the lab and use them as a basis for "innovation."
But is it really innovation?
What is innovation?
Merriam-Webster defines innovation as "the introduction of something new; a new idea, method, or device".
So is it new? Or just a rehash of something old? Apple didn't invent the portable MP3 player. They improved it. Tomislav Uzelac actually invented the first successful one in 1997 while working at Advanced Multimedia Products. It was called the AMP MP3 Playback Engine.
The Better than Average don't necessarily need to be "innovative" to stand out from the crowd. They merely need to have enough differentiation from competitors so that it is "not typically found in an industry."
Bringing sleek styling to an SUV, like the Nissan Pathfinder concept vehicle did at this years' show might be considered "innovative." When the competition still looks like you're driving a box on wheels, they may have just changed the market.
QUESTION FOR YOU –
What have you improved to stand out from your crowd?
SOMETHING FOR YOU –
For the first chapter of the forthcoming book Better than Average: Excelling in a Mediocre World, send an email to me and you score it for free!
_____
Todd Brockdorf
Better than Average Guy
Author, Speaker, Consultant
[email protected]