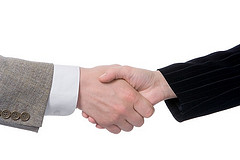 There are three connections that Better than Average businesses must have in order to stand out from the crowd. Those businesses that can master these connections have more engaged employees, more loyal customers, and a positive image in the community. All of these combined, lead to a better bottom line.
What are the 3 connections every business must have?
Connect with Customers – Many organizations maintain connections with their customers, be it through email blasts, postal mail, or phone calls. This is also is known as spam, junk mail, and telemarketing. They think that this is demonstrating connectedness, but they are wrong. It simply annoys, pollutes, and harasses.
Better than Average companies maintain a connection with their customers that differentiate them from their competition. They acknowledge, engage, respond to, and react.
They extend the connection beyond business hours. Responding to Facebook wall posts, Twitter tweets, or even basic personal email enables connection-building while the shop is closed. Having a website that is a useful customer resource kills to stones with one bird – immediate customer gratification and effective employee time management by avoiding the "dumb" questions during business hours. And yes, there are such things as dumb questions. When the real world is closed, connect virtually.
Connect with Employees – Better than Average companies build genuine connections with their employees. It is a deeper connection than a traditional work-for-pay type of relationship. Sure, pay is part of the equation, but it is more like an extension (or sometimes in place) of a family.
To further the relationship between individuals and companies, people are viewed not as bosses and employees, but truly as team members. An outsider should be able to feel the connectedness between employees. The concept of "team member" is not just lip service or a tagline at the bottom of an email. It is the lifeblood of the company.
Employees working at Better than Average companies feel validated, regarded, and appreciated. And they will openly tell you about it. If you aren't hearing from them, you're not connecting with them.
Connect with Community – Organizations that stand out from the crowd do so by building communities. Altruism is certainly one method to connect with your neighbors – charity events, community service days, fundraising for a local cause, and the like. But there are more.
Better than Average companies network with other local businesses. They meet the neighbor businesses in the same strip mall. They create partnerships to offer mutually beneficial discounts to customers. They support one another by buying local and encouraging their contacts to do the same. They become a resource to their customers by recommending others' services.
These organizations actively participate in community events. Their employees serve on community committees. And they are viewed in the hometown newspaper as a reliable source of information on their industry. Better than Average businesses are visible, viable, and vivacious.
QUESTION FOR YOU –
How are you connecting with your customers, employees, and community?
SOMETHING FOR YOU –
For the awesome first chapter of the forthcoming book Better than Average: Excelling in a Mediocre World, send an email to me and you score it for free!
_____
Todd Brockdorf
Better than Average Guy
Author, Speaker, Consultant
[email protected]