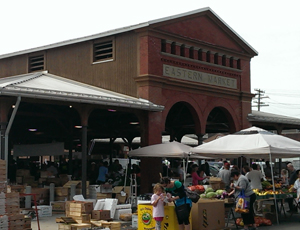 If you find yourself in a commoditized situation, tell better stories to stand out from the crowd.
Over the summer, I visited Detroit's Eastern Market, a weekly farmers market. There were many local farmers selling their fresh fruits and vegetables. Some producers offered produce that was seemingly picked that morning. While others sold product that looked like it was one step away from the grocery stores, all packaged in plastic, complete with SKUs and the annoying stickers that can't be easily composted.
In a market where everyone seemingly has the same goods, how do you stand out from the crowd?
Tell better stories.
While everyone else is standing at their stall, engage passersby.
While everyone else is hawking tomatoes, offer heirloom varieties.
While everyone else is selling vegetables, share organics.
At Eastern Market, I met Danny Lutz, a local farmer from Yale, Michigan. At first glance, his small stall had similar vegetables as all of the others. But, as you approached his tables, he greeted you warmly. Examining his produce, you could tell it was different. It was organic. And fresh. And the heirloom tomatoes were big and ripe and juicy.
It was then that Danny explained about his tomatoes and their heritage. He continued on about his farming practices and the soil and his new tractor. He even invited the family up to the farm and offered to let my kids ride on the tractor.
I was hooked.
After a conversation with Danny, you understood why his business card says, "Passionate Organic Farming."
Of all of the vendors, and there were hundreds, he told the best story.
In your business, when you offer similar products and services as your competition, what story are you telling? What messaging do you use to differentiate yourself?  What are you known for in the marketplace?
Telling your story more effectively than the other guys helps you earn the deal, makes the sale, and gets the girl.
What's your story?
And those heirloom tomatoes? They were some of the best I've ever had.
—