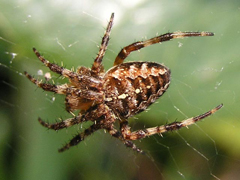 We are scared. Scared that we won't have a job. Scared that we won't sell a product. Scared that we won't make payroll.
We play in fear. Fear of rejection. Fear of loss. Fear of spiders.
The opposite of fear is abundance.
Somewhere will hire. Someone will buy. There is enough.
Change from a fear mindset to an abundance position to increase your chances of success.
What you verbalize comes true. If you think fearfully, speak abundantly.  Turn the fear into faith. Faith that you will succeed. Faith that your ideas will be heard. Faith that you will stand out from the crowd.
Look around. We live in the age of abundance. Access to the world's information is in our pocket. We have more food than ever before. More people live in freedom. And it's only getting better.
Find another customer to buy your goods. Take that lower paying job to make ends meet. Start the idea you've been putting off. Do what you need to do to persevere.
Someone somewhere needs your talents, services, or products. Go find them.
(image courtesy of Andy Potter on geograph)
_____
Todd Brockdorf
Better than Average Guy
Author, Speaker, Consultant
[email protected]
Download Better than Average: Excelling in a Mediocre World