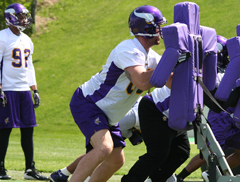 No matter what your chosen profession, chances are, you have an off-season – a time where work slows down. Those who stand out from the crowd, embrace the off-season.
If you work in a business office, maybe it is around the end of December. If you are in retail, maybe it is around February. If you are a professional football player, it is the summer.
We all have periodic times when our work activity is lighter than others.
What do you do during your off-season?
The Better than Average find a way to embrace their off-season for good. They turn their down time into productive time. They make mole hills into mountains. They work out what needs to be shaped up.
6 Activities the Better than Average Do to Embrace the Off-Season
If you are at a loss as to what to do during your off-season, here are 7 items you can do to get you started.
1.   Strategic Planning – Create it, tweak it, dust it off, it doesn't matter. Personal or professional. Homemaker or home builder. Coach or contributor. We can all have a strategic plan for our businesses, ourselves, and even our families. Get out the crystal ball and project the future – three to five years ahead. How will "it" be if you could have it any way you wanted?
 2.   Annual Planning – Annual planning is the "let's-look-at-the-year-ahead-of-us" type of planning. Take those actions from the strategic plan due the next year. Develop greater detailed actions, if needed, to reach the targets in the strategic plan. Add any new items that should be accomplished during the year. As they say, "You can see clearly now, the rain is gone. You can see all obstacles in your way."  You're singing now, I can tell. Stop singing and ask yourself, what do I deserve to accomplish this coming year?
 3.   Financial Planning – Another way of stating financial planning is budgeting. Money. Cash. Payola. Once the annual plan is completed, how much money do you need to accomplish it? Will you be breaking the bank?
4.   Training and Development – Like athletes exercising their muscles, the Better than Average exercise their minds during the off-season. Take classes. Read educational books (click here or here, depending on your preference). Attend seminars and conventions. Learn new skills and refine old ones to stand out from the crowd. What did you learn today?
5.   Network – It is the perfect time to network with others in the field, as everyone tends to have the same off-season. Connect with past coworkers. Reach out to recruits. Say "hi" to the new guy. Who do you need to meet?
 6.   Complete the Odds and Ends – What have you been putting off? Go through the stack of mail. Cross off a To Do item that is starting to go stale and crusty. Call your mother (hi Mom!). No matter how small, you will feel immediate relief of one nagging pain. Take that first step. What do you need to complete today?
(image courtesy of Mr. Cheer or Die at Viking Underground)
_____
Todd Brockdorf
Better than Average Guy
#1 Best-Selling Author, Speaker, Thought Leader
[email protected]