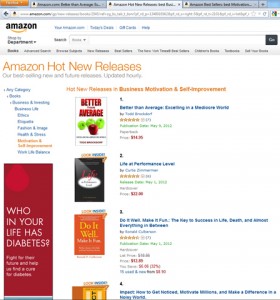 Yesterday, my first book, Better than Average: Excelling in a Mediocre World, was published. It hit #1 on Amazon Best Sellers for Hot New Releases in Business Motivation & Self-Improvement. It peaked at #17 in Business Motivation & Self-Improvement.
But here's the thing. I couldn't have done it without some help.
And for that, I am truly, deeply grateful.
When was the last time you said "thank you" and meant it? I'm talking about that time when you felt it in your soul.
When I saw those numbers yesterday, my hands were shaking. Not because I did it. But because WE did it. I simply provided the ice rink. It was the players would played the all-star game.
Thank you. Two words, yet so powerful.
What if we lived in a world with greater gratitude and less gimme gimme? What if there was more merci and minimal "mine"?  What if we dared for "danke" and had fewer desires?
Deep gratitude is a whole body experience.
To my friends, supporters, and those who have joined the Better than Average, I offer you my sincerest, deepest thank you. I am truly blown away.
QUESTION FOR YOU:
Who do you need to thank today?
SOMETHING FOR YOU:
For a list of 16 Easy, No Cost Ways to Express Gratitude on a Daily Basis shoot me an email and you score it for free!
_____
Todd Brockdorf
Better than Average Guy
#1 Best Selling Author, Speaker, Consultant
[email protected]